At Dog Gone Walking, we form amazing bonds with our clients, over years of visiting and getting to know all their quirks and unique personalities. With help from our sponsor, Rens Pets Depot, we choose a client each month and show off some of the incredible pets we spend time with every day! 
Recently we got some sad news, that after years of walks with Lucy and Oscar, they would be put on hold for the next while, as Lucy eases comfortably over the rainbow bridge. We wanted to honour Lucy (and her silly brother Oscar, of course) through our Client of The Month blog, so that her glowing personality and sweet spirit may be shared with you all. We hope she brings a smile to your face 🙂
Where to start with these two adorable Goldens? They are puddles of love from the moment we walk through the door! No day can't be made brighter with a visit to Oscar and Lucy's! We asked Samantha, their regular walker, just why she loves these sassy siblings so much:
"Lucy and Oscar would always sit by the window and as soon as they see me pull up, they just go nuts! When I walk in the door Oscar runs around whining with a pillow in his mouth (a gift, maybe?!) while Lucy sits pretty, knowing if she just waits it will be time to leave! They are great listeners, easy walkers, and perfect companions."
As for their personalities, they couldn't be more different- Oscar is a wild child who sniffs every post and every bush, and his tail is always going a mile a minute! Lucy's the sweet darling who patiently waits her turn for attention because Oscar is so pushy!She doesn't mind though, and is happy to let Oscar have the spotlight sometimes. 🙂 She's always going to be watching over her little brother, as protective as ever. Even though Oscar can look out for himself, his big sister has his back!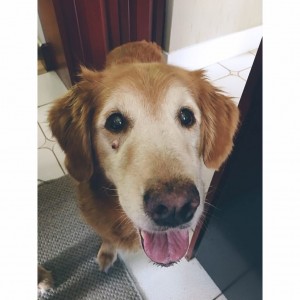 Thank you, Oscar and Lucy, for being amazing DGW clients.