At Dog Gone Walking, we form amazing bonds with our clients, over years of visiting and getting to know all their quirks and unique personalities. With help from our sponsor, Rens Pets Depot, we choose a client each month and show off some of the incredible pets we spend time with every day!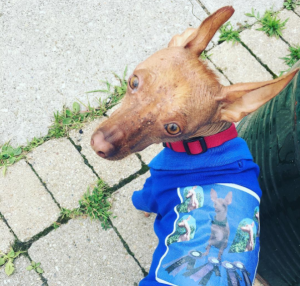 October's client of the month is funky little Napoleon! Napoleon is by far, the most popular pup on the sidewalk when he walks with us! Because of his unique look, being a Xolo breed (or Mexican Hairless), his adorable outfits and cute little bald head attract a lot of attention…not that he minds saying hello! 🙂
Sade regularly visits Napoleon, and had this to say about her time spent walking this spunky little dude:
Napoleon is always ready to join me on a long trail walk through his neighbourhood, or hop in the car to visit one of his many friends in the area! He gets so excited, it's contagious! Not to mention, his super cute pyjamas that are different almost every time I see him…I think he has a better wardrobe than I do 😉 
Napoleon adores his fellow four legged friends, and is always in the mood to socialize in the great outdoors…his sunny disposition and cuddly nature make him an absolute pleasure to visit.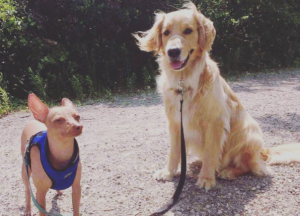 Thank you, Napoleon, for being an amazing DGW client!