At Dog Gone Walking, we form amazing bonds with our clients, over years of visiting and getting to know all their quirks and unique personalities. With help from our sponsor, Rens Pets Depot, we choose a client each month and show off some of the incredible pets we spend time with every day!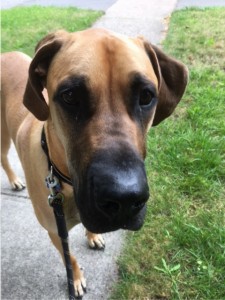 August's client of the month is Jasper, a big handsome hunk of a boy! Jasper may be a big guy, but he has the heart of a puppy and sometimes he forgets he isn't a lap dog! We asked Jasper's regular walker, Jenn, just what it is she loves about her handsome walking buddy:
"Jasper is a gentle giant! He is so fun to visit, and always so happy to see you. He brings one of his toys to the door to greet you, and it's the cutest thing ever! He is totally Mr. Social, he loves to say hi to every person and dog on our walks – everyone loves Jasper! How could you not?!'"
Jasper's super kissable face, and loving demeanor make him a joy to be around and something to look forward to whenever his name pops up on our schedule! Jasper is tons of fun, and can brighten up any day with that big goofy smile of his 🙂
Thank you, Jasper, for being an amazing DGW client!